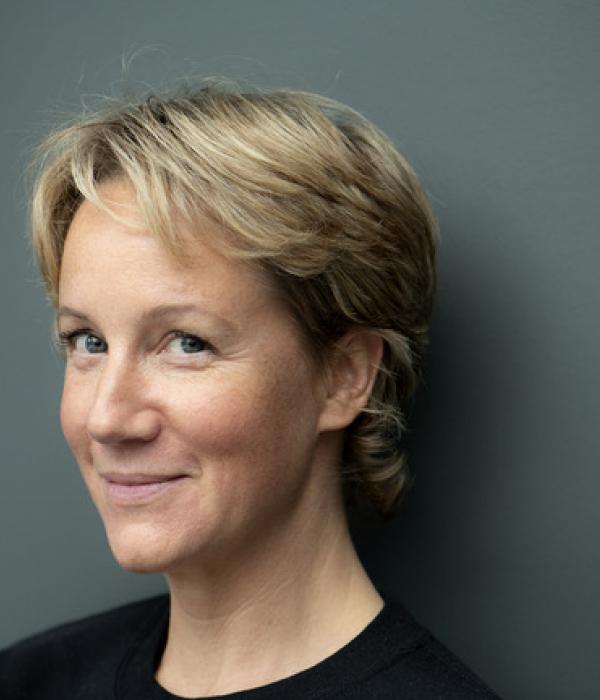 A chat with Esther de Beaucé
Categories : Artists, published on : 11/20/23
In 2012, Esther de Beaucé opened the first gallery dedicated to art jewellery in Saint Germain des Prés, right in the heart of the Carré rive gauche. It's a place of charm and prestige with which local residents and loyal guests of the très chic Hôtel de Lille are now familiar.
Purveyor of art jewellery and pioneer in miniature art
Esther de Beaucé, a pioneer in miniature art, does not just exhibit and sell art jewellery, she supports its creators at all stages from the design to the manufacturing of their creations. However, she readily admits that she was not "familiar with the technical aspects" of the craft. This, however, proved not to be an obstacle, and the proof is that Esther is embarking on the adventure with passion. Today, she remains the only purveyor in Paris of art jewellery.

Galerie MiniMasterpiece
In the tight network of art galleries and cultural hubs that surround the Hôtel de Lille, the Galerie MiniMasterpieceholds an exceptional place. Esther de Beaucé is something of a neighbourhood kid, so the location was not chosen at random. Her mother and stepfather, Bernar Venet, already lived in this corner of the 7th arrondissement, a neighbourhood that is both popular and brimming with artistic and literary history.
A jewel gallery in the Carré d'or
Nestled in one of the prettiest courtyards in the neighbourhood, the Carré d'or des Antiquaires, the Galerie MiniMasterpiece offers jewellery that can truly be classed as works of art.
« Small is beautiful »
Intended to be worn, these miniature sculptures are also a new expression of the work of the artists that the gallery echoes. The personality of Esther de Beaucé and the strength of her collections make MiniMasterpiece a unique gallery.
Contemporary art in her DNA
Esther de Beaucé has always lived surrounded by conceptual art. At a very young age, it was not uncommon for her to share meals with the French sculptors César, Arman and Lalanne or the American artists Frank Stella and Sol Lewitt. Very early on, "defending contemporary art" became a natural mode of expression for her. After a brilliant student career in the United States and France, Esther de Beaucé opened a contemporary art gallery in 2005 with her friend Carole Schirman. What could be a more natural course for your life when art flows through your veins? But representing and promoting emerging artists, sculptors, designers and installation creators was not enough for her.
In 2008, the project began to work with artists in a different way, to "find an artistic niche" as she puts it. The idea of producing art jewellery came quite naturally. "My mother passed on to me the knowledge and love of artistic jewellery," Esther says. And Diane Venet is indeed considered one of the most prominent collectors of art jewellery. Started in the 90s, her collection now includes more than 230 pieces created by the big names of the 20th and 21st centuries, from Picasso and Koons to Calder and Kapoor.
Art jewellery has existed since the beginning of the 20th century. Artists created these works for their muses, their families and friends, and especially for the women they loved: Calder for his little sister and her friends, Picasso for Dora Marr....
We consider - rightly - these miniature sculptures to be a form of art in their own right.
Art jewellery: a form of art in its own right
With these miniature works, Esther de Beaucé found her means of artistic expression. In 2012, "everything started from scratch," she says. Esther started from nothing because nothing like it existed at that time in France; there was no purveyor of art jewellery. The secret of her success is that Esther's idea is not limited to simply exhibiting artistic jewellery creations but encompasses producing them. She wants to "master everything, from the conception of the project to the consequent edition". She contacts the artists and supports them until the end. You could say that she helps in bringing each item to fruition. This is very new work because "the jewel is not a reduction of a work that already exists. For an artist it is a creation, a re-creation and a celebration," explains Esther de Beaucé. MiniMasterpiece gives this work a new place and high visibility.
One who helped to enable the opening of the gallery by accepting the first project is François Morellet. A French painter, engraver and sculptor, he is considered a major player in geometric abstraction. Other artists followed. In the beginning, Esther de Beaucé naturally turned to sculptors for their work in three dimensions, as those artists are undoubtedly better able to "find the balance between measurement, weight and ergonomics".Esther fait d'abord appel à des sculpteurs confirmés comme Pablo Reinoso, Bernar Venet, Sophia Vari , Claude Lévêque ou Jean-Luc Moulène... puis elle contacte des artistes plus jeunes, comme le Français Nicolas Buffe, ou des designers dont elle apprécie le travail comme Christian Ghion , David Dubois ou Constance Guisset. Grâce à Esther de Beaucé, la vision d'artistes de talent prend une dimension nouvelle. Ces précieuses miniatures devenues collier, bague, broche ou bracelet, sont ensuite mises en lumière dans la galerie MiniMasterpiece qui accueille amateurs.trices d'art,,collectionneurs.euses ou simplement acheteurs.euses et amoureux.euses de bijoux .
Esther first called on the services of established sculptors such as Pablo Reinoso, Bernar Venet, Sophia Vari, Claude Lévêque and Jean-Luc Moulène... Then she contacted younger artists like Nicolas Buffe, as well as designers whom she appreciates, including Christian Ghion, David Dubois and Constance Guisset. Thanks to Esther de Beaucé, the visions of talented artists take on new dimensions. These precious miniatures, which have become necklaces, rings, brooches and bracelets, are then highlighted in the Galerie MiniMasterpiece, a place which warmly welcomes art lovers, collectors, and buyers and lovers of jewellery.
"All jewellery is wearable," is her claim and goal, but it's mostly about statement pieces, according to Esther: "Strong and original, they are especially aimed at women with character".
Exhibitions are regularly dedicated to them, and the most recent major auction took place on October 17th. So many opportunities to treat yourself to a work of art - finally within reach! - and so many reasons to step through the doorway of 16 Rue des Saint Pères.
Colombe de la Taille
The favourite addresses of Esther de Beaucé:
En Aparté: A beauty salon offering wonderful treatments provided by two young women prodigies. It's located under the stone vaults of a beautiful building in the Verneuil district.
10 Rue de Verneuil, 75007 Paris
Tel : 09 50 06 28 30
La Maison Fleuret: Located in a former bookstore, this boulangerie and pâtisserie offers a unique experience. There, in a contemporary and eclectic cabinet of curiosities-style setting, Matthieu offers a timeless gastronomic journey. Professional chefs also give boulangerie and pâtisserie master classes in the finest tradition.
30 Rue des Saints-Pères, 75007 Paris
Tel : 01 43 22 91 98
Chez Pitou: The chic and welcoming neighbourhood grocery shop. There you can find fresh produce, flowers, cooked meals and a wide selection of sauces and wines. Plenty of options for making a dinner or lunch for friends and family and it's open until late (Open every day from 10:30 a.m. to midnight).
23 Rue des Saints-Pères, 75006 Paris
Tel : 06 07 21 73 24
Image 1: portrait © Yann Delacour, 2023
Image 2: gallery exterior © MiniMasterpiece
Image 3: "La Bague pour toujours prendre la bonne direction" by Philippe Ramette, silver 925, edition of 8, MiniMasterpiece edition, 2021 © MiniMasterpiece
Image 4: "Loopingcuff" cuff by Pablo Reinoso, brushed vermeil, edition of 8, MiniMasterpiece edition, 2018 © Yann Delacour
Image 5: Necklace "Eclat de larmes" by Françoise Pétrovitch, vermeil, edition of 12, MiniMasterpiece edition, 2023 © MiniMasterpiece
Image 6: "Liaisons amoureuses" pendant necklace by Phillip King, yellow gold, 925 silver and colored lacquer, edition of 8, MiniMasterpiece edition, 2017 © Yann Delacour