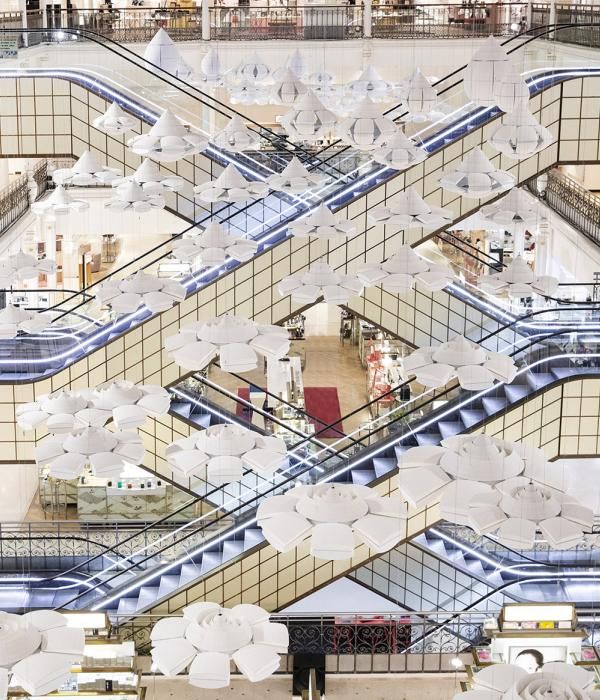 Ame Nochi Hana; Rain Flowers at the Bon Marché Left Bank
Categories : Event, published on : 1/20/20
The Japanese designer and architect Oki Sato makes rain, whatever the weather outside, from January 11th to February 16th.
Let's go singing in the rain at the Bon Marché department store on the Left Bank!
But visitors and customers won't need an umbrella... The rain falling from the large central canopy is not wet. Its drops are transformed into a carpet of white flowers as they fall. This sophisticated and innovative installation is the work of the Japanese architect and designer Oki Sato and his internationally renowned studio Nendo, which has won multiple awards and is now becoming famous in France thanks to this creation.
To mark this traditional 'white month' created in 1872 by Aristide Boucicaut, the French entrepreneur who established the store, the Bon Marché Left Bank gave Oki Sato carte blanche to design a spectacular installation within its walls; a monumental exhibition intended to honour the emblematic white of this time of year.
Rain Flowers ​​(Ame Nochi Hana in Japanese) deploys its poetic vision of the cycle of nature in the large central space at the heart of this renowned department store. It continuously moves; a ballet of brilliant drops of water that transform into a field of flowers when they reach the ground and resume their original form by closing their petals when rising towards the canopied 'sky'. Technical prowess is used to explore the universal connection between rainwater and blossom.
The store's display windows offer passers-by more narrative variations on this theme with equally white sculptures depicting the cycle of water through a bottle, a vase and a flower.
The subtleties of the many Japanese words for rain, which allude to the varying quality of its intensity or the season, are evoked in the form of twenty sculptures situated on the ground floor, while on the second floor visitors are invited to open an umbrella and interact with the imagery of raindrops and flowers projected on the floor before them as part of an installation called Uncovered Skies.
The invitation to Oki Sato, following on from those extended to Ai Weiwei in January 2016, Chiharu Shioto in 2017, Leandro Erlich in 2018 and Joana Vasconcelos in 2019, testifies to the desire of the Bon Marché Left Bank to be a patron and influencer of the Parisian art scene. These cartes blanches offered to artists of international repute and influence give them the opportunity to access a large audience through original creations for which the department store is the setting and the inspiration.
Colombe de La Taille
Exposition « Ame Nochi Hana » Oki Sato
Le Bon Marché Rive Gauche
24 rue de Sévres 75007 Paris
Crédit photos : © Bon Marché Rive Gauche © Nendo