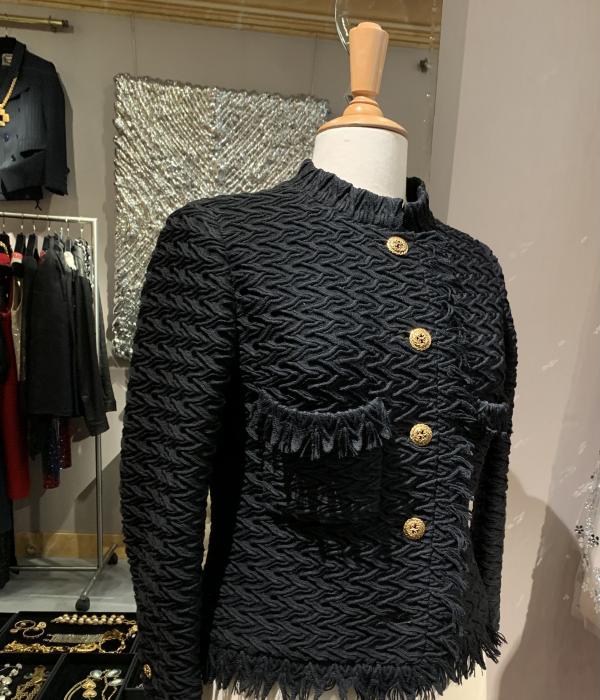 In the antiques district, a gallery of a different kind has set up shop behind its lovely display window on the Rue de Beaune. Less obtrusive than its neighbours, Renaissance reveals itself to anyone who looks for it carefully. An entire world of iconic pieces of fashion art ranging from the 1940s to the 1990s unfolds even to a casual glance.

Step through the door and the charm will work its magic on you right away. This gallery of antiques, fashion and vintage haute couture accessories is a celebration of the art de vivre. Your gaze wanders delightedly amidst dresses, suits, and jackets suspended alongside jewels worthy of the greatest collections... The owner, Corinne Than Trong, is a specialist in haute couture dating from the second half of the 20th century, and her expertise is sought after by museums and trend-setters around the world. Her warm welcome is a reflection of the ambiance of her boutique itself: inviting, gentle, and elegant. A cup of tea in hand, seated behind the scrolls of the Goossens incense burner on the desk, keeping a fond eye on the place's mascot, her little dog, Lola, Corinne can reveal the story of each piece.
The first story is hers. Born into a multicultural family with French, Swiss and Vietnamese roots, Corinne has had an affinity for art and culture since her earliest childhood. Her parents and grandparents, passionate about museums and collections, shared this passion with her through their travels and way of life. Setting out from the family apartment in Saint Germain-des-Prés, she visited all the Parisian museums. In the 80s, her mother opened an antiques gallery specialising in 19th century artefacts and furniture, and quickly began to offer vintage clothing. At that time, Madeleine Castaing ran her legendary gallery on the Rue Jacob and regularly came to hunt at the Carré Rive Gauche, in this district then populated by haberdashers, florists and fromageries.
After taking over her mother's gallery, Corinne decided to specialise in fashion, which she loves. She seeks pieces that express refinement and the elegance of life, including clothing from the greatest labels and designers in the history of fashion: Yves Saint-Laurent, Christian Dior, Chanel, Balmain, Maison Lesage, Lemarié, Goossens… Each piece of clothing, item of jewellery or accessory is a carefully chosen collector's item authenticated by Corinne's keen eye. Here, you will find items from the great years of Chanel, when Claudia Schiffer or Jackie Kennedy were the brand's muses, a 1955 Dior dress worn by the great Victoire Doutreleau, a YSL Haute-Couture winter 85-86 jacket... Such collector's items share the space with art books, paintings and objets d'art that testify most eloquently to the passion of the owner for art and beautiful things.
She shares this passion with the Hôtel de Lille, which she calls "the darling hotel of the district". It's not every day that you find a similar level of enthusiasm for art among the team of a hotel as you do in the neighbouring galleries! The Rue de Beaune and Rue de Lille intersect, and the same is true of the locals, who mingle and maintain the neighbourhood spirit that is so dear to them. Rubbing shoulders with the residents and regulars, visitors from all over the world are still drawn to Saint-Germain-des-Prés, and many visit Renaissance.
Among the Renaissance customers are many young women who come to find "THE" outfit that will help them make a fashion statement for a special occasion or for every day. There are also many art and fashion lovers, collectors or enthusiasts who arrive looking for a particular item of clothing or inspiration. Consisting mainly of unique pieces, the Renaissance stock is constantly being renewed. Many people come for one outfit and leave with another, or several, heading home happy to spread the word that Renaissance and its owner are wonderful.
"To wear vintage art is to be unique and to be now, and I completely disagree with those who say it was better before. Yes, I love history and am interested in the history of each garment, jewel and accessory that passes through my hands, but what thrills me most is the present and all the opportunities that the future holds for us. What is written interests me less than what remains to be written. When you buy a vintage piece, no matter how prestigious its history, its creation, or the celebrity who wore it before you, its story is now yours. It's up to you to write it."
Website and e-shop: www.renaissance75007.com
Corinne Than Trong's favourite places in the district:
• To discover one of the most beautiful brasseries in Paris: Le Voltaire – 27 Quai Voltaire, 75007 Paris
• To immerse yourself in the 1920s: Le Bistrot de Paris - 33 Rue de Lille, 75007 Paris
• To appreciate traditional Vietnamese cuisine: Tan Dinh – 60 Rue de Verneuil, 75007 Paris
• To enjoy the best food and Burgundy wine pairings: Les Climats – 41 Rue de Lille, 75007 Paris
• To savour refined and flexitarian Spanish cuisine: Fogon Ultramarinos – 38 Rue de Verneuil, 75007 Paris
• To discover a gallery halfway inspired by landscaping and the Decorative Arts: Galerie Patrick Pottier – 6-7 Rue de Beaune, 75007 Paris
Colombe de La Taille