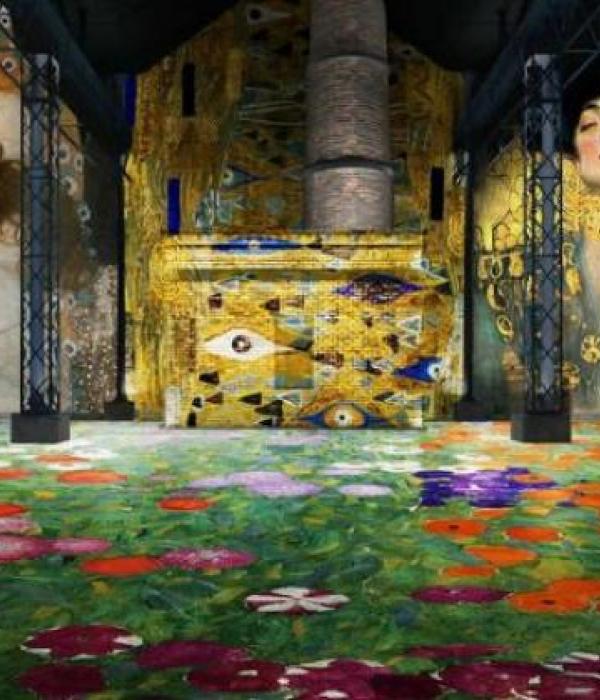 Hotel de Lille, always prowling for curiosities to discover, reveals an new and innovative place in Paris : l'Atelier des Lumières.
Digital arts in the spotlight at the Atelier des Lumières
In Paris 11th district, art and digital meet in the brand new Atelier des Lumières. On a 2 000 m2 area, the first exhibition dedicated to Klimt and the Viennese Secession covers the wall of a 19th century foundry. Renovated by the Culturespaces group, also in charge of the Carrière des Lumières in Baux-de-Provence (amazing success, more than 600 000 people the first year), l'Atelier des Lumières opened on april 13th 2018.
Viennese Secession
Displayed through AMIEX® technology, work from Viennese Secession of which Klimt was the leading figure, surround all visitors for a wander in a unique atmosphere. This new Parisian exhibition spot is based on immersion. Paintings are projected on concrete walls surrounding visitors for a dive into the world of each artist and each period depicted.
The Atelier des Lumières is divided in many spaces dedicated to immersion, a principal space for the main program, a space dedicated to the short program and a studio dedicated to temporary exhibition, perfomance and a hidden bar.
Culturespaces already created 6 exhibitions on the same concept (on Micheangelo and Leonardo Da Vinci, on Picasso, on Chagall, on Gauguin and on Van Gogh).
It insures a promising future to this spot to discover this spring.
Plan ahead : there is a big line up to get to the exhibition.
Atelier de Lumières
38 rue Saint-Maur
75 011 Paris
From 10am to 6pm everyday and on holidays
Night-time session all Fridays and Saturdays until 10pm
Regular fare 14,5 €
Photo credit : © Atelier des Lumières