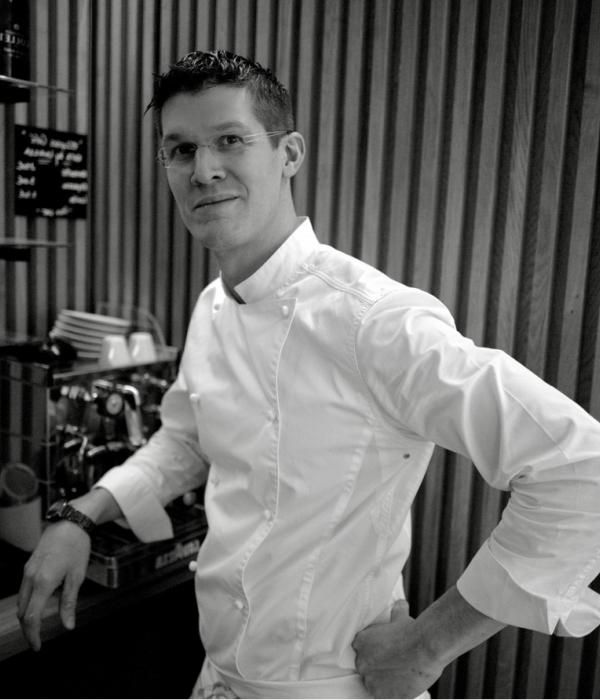 Eclipses by chef Cyril Choisne at the Hôtel de Lille: a taste of the stars
Categories : Hotel, published on : 7/27/21
Gourmet room service by Cyril Choisne at the Hôtel de Lille
Since 2019, the restaurant Eclipses has delighted the taste buds of the 7th arrondissement. It's a veritable palace of flavours where the famed chef Cyril Choisne cooks up dishes and patisseries with his customary aplomb. All this is available to savour on the spot, take away or have delivered. Today, Cyril Choisne also places his considerable talents at the service of the guests of the Hotel de Lille. All it took was a meeting with Philippe Daucet, manager of the Hôtel de Lille, for the taste adventure to begin. Another big plus is that the journey from the kitchen of the Eclipses to the Hôtel de Lille is just a short hop! Cyril Choisne delivers his fish, meat and even vegetarian dish recipes of the day in this very neighbourhood. Our hotel guests can also order salads and gourmet club sandwiches to be delivered to their rooms. All presented in attractive brand boxes.
The 7th arrondissement is definitely a breeding ground for talent that the Hôtel de Lille is delighted to assist in cultivating. By partnering with Cyril Choisne, Philippe Daucet knew that his guests would be receiving the very best. In his pursuit of flavours and subtle alliances, the chef has only one rule: "All homemade". And it is!
Bustling busily between his kitchen and atelier-boutique, Cyril Choisne tells us, "My career is inspired by flavours". He is happy to point out, however, that this rich and varied career has flourished under a lucky star. As a teenager, he was fortunate to have his first 3rd year internship at the Cottage Marcadet, a small traditional restaurant. Cyril then flawlessly pursued his vocation, moving on from school to the finest starred restaurants.
He learned at the aprons of respected mentors such as Guy Savoy at the Butte Chaillot, Christian Le Squer at Ledoyen, with Jean-Francois Piège and Alain Ducasse at the Plaza and Jean Paul Vigato at Apicius.
His talent, his imagination and his mastery were shaped and sharpened with these leading culinary lights, which he openly acknowledges. "Christian Le Squer gave me the opportunity to learn about pâtisserie. For avidly curious people like me, Christian is a goldmine. He allows you to have fun creating recipes; he inspires and stimulates you".
He learned the secrets of Jean-François Piège and Alain Ducasse at the Plaza, their way of doing things. "The most important thing is when a chef shares with you his personal techniques."
He also learned to be a pâtissier and baker. "I had fun with everything. I went from cook to pâtissier, which are two very distinct worlds in the kitchen," he says.
Cyril Choisne pauses in his story to resume the thread of his journey. This time, he speaks of another great encounter, one of the heart; one to which he would devote nearly ten years of his life. So he could watch his children grow up, he returned to his first love, the Cottage Marcadet. One fine day, he received a call from Gault & Millau announcing that he was the winner of the Gault & Millau endowment. Unfortunately, a serious accident delayed the project, and it wasn't until September 2019 that he managed to open his restaurant, Eclipses. Situated on the Rue de Beaune in the 7th arrondissement, Cyril Choisne's Eclipses is the new essential address in the district. Simultaneously an atelier, tasting cellar and gourmet restaurant, Eclipses reflects its creator's passions. It's diverse, creative, refined and delicious...
The chef offers a cuisine in which flavours have pride of place and the raw ingredients reign supreme. Here, a dish based around luscious greens, elsewhere, a sweet and sour cucumber and tourteaux...
Cyril Choisne does all his shopping himself before dawn: "It allows me to choose produce sourced from my networks of friends, to have no middlemen and be able to offer exceptional ingredients that are less expensive".
In his tastefully decorated bistronomic restaurant, Cyril Choisne offers a daily menu of dishes available both on site and to take away. It's a gourmet pleasure that Hotel de Lille guests can now share. His collaboration with the Hôtel de Lille was a no-brainer. "The manager of the Lille, Philippe Daucet, and I have similar values and a similar concept of hospitality, the search for the best and the beautiful and, above all, the love of a job well done. Together, we cultivate a particular idea of happiness as well as the loyalty of our customers." Cyril Choisne pauses to greet a mother and her two children, offering them meringues due to the shortage of brioches. "The Hôtel de Lille is like a house; I like to cook for them and prepare Eclipses boxes. I've wanted to work with a hotel for a long time and can now offer a refined and simple menu for guests to enjoy in their rooms or in the hotel restaurant."
Neighbours, delivery people, young and old alike keep coming through the door to the atelier where Cyril and his team prepare pâtisseries and viennoiseries as well as takeaway menu boxes.
Cyril welcomes them, shares his passion and advice with them. While narrating his adventures, he prepares a foie gras for a client, ready to be delivered at the same time as another client comes in to collect a wonderful brioche. And, little by little, all the bread flies out the door. And Cyril always takes the time to offer a little guidance: "Flash the buns in the oven at 22O degrees".
Find the best of the Eclipses every day and at any time at the Hotel de Lille, whether in your room or elsewhere in the establishment. It's a gourmet experience to Eclipse all others.
Restaurant Official Website : eclipses.fr
Colombe de La Taille