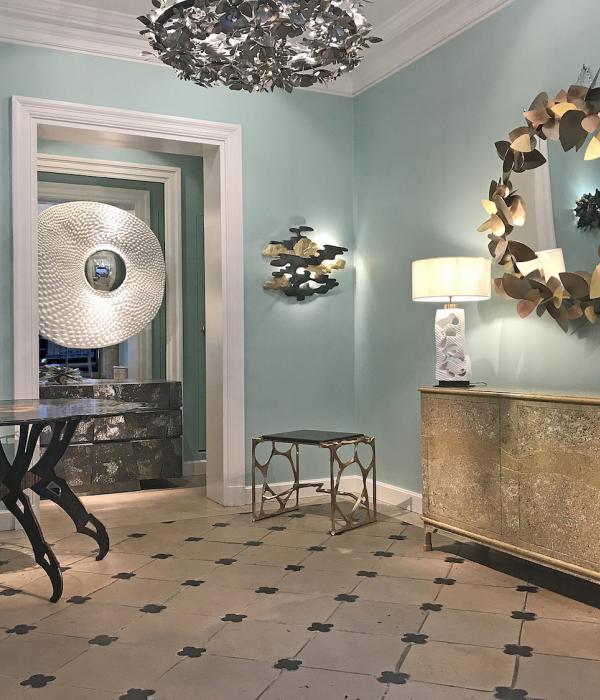 The antechamber of contemporary creation
If there is one woman that everyone knows in the Parisian art world, it's Gladys Mougin. Discreet and omnipresent, she cultivates in her gallery on the Rue de Lille a certain quintessence of contemporary design. Located just a short stroll from the Hôtel de Lille, in a place that has always been dedicated to art, this gallery, which has now been divided into two adjoining spaces, has been a shining star of contemporary creativity in the neighbourhood for more than 30 years.
It feels like an apartment filled with exceptional pieces, each unique yet coming together in perfect harmony, and seeming almost suspended in this space with its soft colours. They stay thus for the duration of an exhibition, a dream or a meeting, before pursuing their destiny in a museum, a hotel or a private residence, where they will provide constant delight for collectors and aesthetes. Nathalie Ziegler Pasqua's light sculptures stand side by side with powerful bronzes by Laurence Montano under the amused gaze of the papier-mâché mirrors of the Farfelus Farfadets, while the aerial mobiles of Molénac hover over the metal furniture-sculptures of Caroline Corbeau ... Exhibiting the works of regulars and newcomers, the Galerie Mougin is renewing itself without ever changing its identity.

A creative UFO amidst antique shops
Gladys shares with the Hôtel de Lille a common spirit of refinement, a love of hospitality, a profound passion for unique pieces and a commitment to the life of the neighbourhood. She has been very attached to this district since she returned from London in 1989 with books by Tom Dixon and André Dubreuil under her arm, and her head full of ideas and the desire to create a new kind of art space. Far from La Bastille, where the avant-garde Parisian artistic scene of the time was established, Gladys chose the peaceful 7th arrondissement in which to set up her gallery, which was a veritable UFO among the galleries of antique dealers at that time. At 30 Rue de Lille, the 'Creative Salvage' and contemporary creations are now showcasing and pervading the neighbourhood with their energy.
From her beginnings, wearing the hats of both gallery owner and agent, this endlessly energetic pioneer joined forces with André Dubreuil and very quickly established her eye and her artists in France and internationally. Trailblazing in the late 1980s, she brought her friends André Dubreuil and Tom Dixon to the forefront of the Parisian scene, to become essentials in the world of art and design. Loyal André Dubreuil continues to exhibit at the Galerie Mougin, of which he is a partner. His inimitable style turns his pieces into true works of art, sought after by private collectors as well as by museums around the world.
Passion as heritage, creativity as a banner
A dreamy child from Dordogne, Gladys developed her passion for rare pieces while strolling through the flea markets and galleries of Paris. She remembers fondly the legendary Galerie Josépha on the Rue de Lille, which specialised in works from the 1930s, and whose founder knew at a glance how to discern true from false. There, enthusiasts would meet up in the salon in the evenings. Gladys carries this Parisian heritage with her and maintains this warm ambiance of sharing and admiration in her own gallery.
The artists she works with conceive and produce their creations in their own studios before exhibiting them on the Rue de Lille, where they enter into a dialogue with space and other creations. These are unique pieces or very limited series, often ordered in advance by individuals or the interior decorators who constitute the majority of the gallery's clientele. True to her ambition to present the best of contemporary creation, Gladys offers a showroom of 10 to 12 designers, all very different from each other. It is all part of a process of renewal in this neighbourhood where architects and designers are now settling in a spirit of perpetual creative reinvention.

The art of satisfying a demanding clientele
With her keen sense of hospitality and service, Gladys looks after her clients as attentively as she does her artists: "We are very attached to our clients. We have no stock, but our private customers always come back. Between the customer request, the proposed quote and the artist's final project, there is sometimes a world of difference, but I make a point of never changing the quote."
A champion of eclecticism, the Galerie Mougin exhibits unique pieces by artists, including jewellery, furniture, lighting, lacquers, enamels, sculptures and more. Styles blend and interact in a shimmering of materials and colours. Everything here is in its rightful place, brought together under the expert eye of Gladys. Currently, a custom-made installation by ceramicist Rémi Fontaine replicates many unique pieces by André Dubreuil, Laurence Montano and Michael Pohu.
Gladys Mougin's recommendations in the neighbourhood:
• To experience a legendary brasserie: Le Bistrot de Paris - 33 Rue de Lille, 75007 Paris
• For a charming lunch to the rhythm of the neighbourhood: La Calèche - 8 Rue de Lille, 75007 Paris
• To explore a time capsule: La Galerie Alexandre Piatti - 11 Rue de Beaune, 75007 Paris
• For a drink on a Parisian terrace: Le Comptoir des Saints-Pères - 29 Rue des Saints-Pères, 75006 Paris
• To discover another legendary gallery: CHAHAN Gallery - 11 Rue de Lille, 75007 Paris
• To enjoy a pâtisserie during a stroll on the Rive Gauche: Eclipses - 27/29 Rue de Beaune, 75007 Paris
Colombe de La Taille