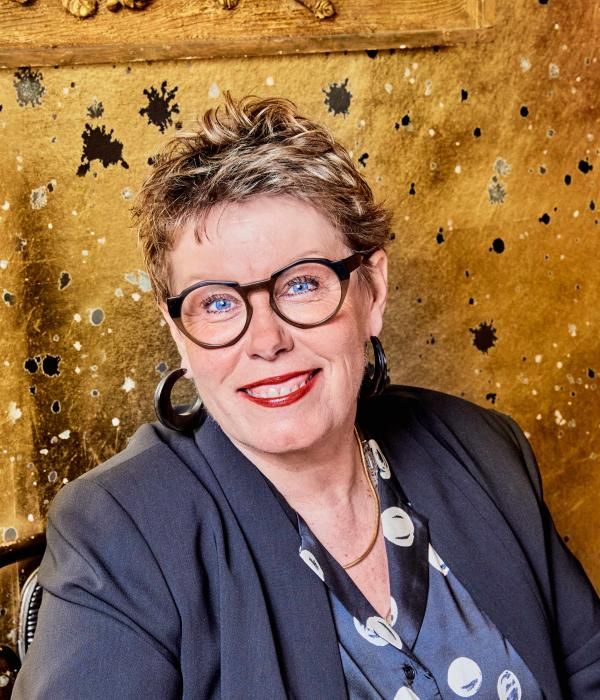 In my winter garden the Galerie Vauclair
Categories : Artists, published on : 3/20/23
Full of colour and finesse.
A chat with Laurence Vauclair, international expert in the art of the second half of the 19th century
Expertise & Ingenuity:
In the peaceful Rue de Beaune, near Saint-Germain-des-Prés, small groups of passers-by gather in front of the exuberant display windows of the Galerie Vauclair. All who happen to be in this delightful district, whether they are residents, Parisians out for a stroll or privileged guests of the nearby Hôtel de Lille, are invited to reflect before enchanted winter gardens, refined salons and boudoirs, and the decor of the Second Empire.
Laurence Vauclair is an autodidact who has become an international specialist in rattan and artistic ceramics from the end of the 19th century, the period when universal exhibitions arose to a peak of popularity. In her shop at 24 Rue de Beaune, she makes a passionate contribution to highlighting this era, accompanied by researchers and collectors who trust her.
But if the Winter Garden flourishes so well at the Galerie Vauclair, it is thanks to the incubator spirit of Denis Vauclair-Rouquette. He is the facilitator of Laurence's dreams, the one who puts the elements in place to transform them into reality.
In love with French savoir-faire, they bring to the forefront the names of exceptional designers, artists and manufacturers: Massier, Avisseau, Deck, Collinot and Perret & Vibert, the bamboo specialists.
"Throughout the year, we put together exhibitions to tie in with various Parisian events (Paris Design Week, Parcours de la Céramique, Paris Deco Off). We take our time in preparing them, doing so well in advance. Sometimes it takes us a year or two, and we work on them with various collaborators (Laura Gonzalez and Sandra Benhamou, among others). The most recent exhibition was the "Boudoir Rose", a Napoleon III salon straight out of the imagination of Denis, inspired by Tolstoy's novel, Anna Karenina.
"I like to solicit ideas, give carte blanche to artisans, designers and other creators and thus get off the beaten track...". Laurence is a networker for whom interaction is the keystone of her work: "I like to open the doors of my shop to art students who are building the world of tomorrow. Over the years, I have sharpened my eye regarding various aspects, and I have been able to develop real expertise."
Among dealers, auction houses and collectors, the Galerie Vauclair is an authoritative reference due to the knowledge it embodies and the ingenuity of its scenographies.
Laurence Vauclair:
Originally from Switzerland, Laurence spent her formative years in Paris. Granddaughter of a well-regarded tailor based in the Rue Royale, who notably dressed General de Gaulle and designed the outfits of academicians, Laurence grew up surrounded by fabrics, embroidery and the tools of the tailor's art. She learned by gaining familiarity with materials and very early became acquainted with the world of luxury and creativity. She inherited her love of antiques from her parents, who were assiduous hunters who took young Laurence with them to all the flea markets and introduced her to the treasures to be found in museums. Her passion for marvellous décor items was something she inherited from her mother, who used to create enchanted showcases composed of vintage finds to decorate her Parisian hair salon.
"In this refined atmosphere, I learned very early that nothing can be properly accomplished without passion and effort."
After a brief stint in law school and with a degree in Japanese in hand, Laurence joined one of her friends at the Puces de Saint-Ouen, an antiques market, to sell some of the treasures from her personal collection. It was the start of a career that took her from fairs to antique dealers in France and abroad, particularly in the United States.
Meeting American art dealers was an important turning point in her career: she discovered their passion for barbotines (French ceramic slips). Back in France, she first established her business at the Puces de Saint Ouen. Then, just 20 years ago (they are celebrating this anniversary with great fanfare this year…), she set up her shop in the Carré Rive Gauche and began her passionate research on this niche specialty, the definitive history of which remains to be written.
A universe opened up to her which became her favourite terrain, the lush winter garden with its rattan and bamboo furniture, its small, delicate and colourful salons that invite conversation.
"I love to have the freedom to be able to form diverse partnerships with contemporary designers such as Laura Gonzalez, or older institutions such as the Maison Pierre Frey, with whom I share a taste for artistic artisanship and a passion for materials".
A collector at heart, an aesthete and a communicator, Laurence Vauclair speaks passionately about her world. "People like to come to my establishment on the Rue de Beaune or the Puces de Saint-Ouen and experience with us the pleasures of history, poetry and beauty".
"During the pandemic, we suffered from no longer being able to offer people the in-situ experience of the Galerie Vauclair. But I have more than one trick up my sleeve! We had to reinvent ourselves. Thus, with my husband Denis, we changed the decor of our gallery on the Rue de Beaune every week to entertain the people of the neighbourhood, who could only go out infrequently and take the same daily walks". It was also at this time that Laurence boosted the development of her digital presence, which is now very well established.
But nothing replaces a face-to-face encounter with Laurence Vauclair. She is one for whom laughter and festivities are essential and who is well known to all the people of the neighbourhood and many beyond (she has customers throughout the whole of Paris and in the provinces as well as many foreign customers, all of whom are delighted to come back after these years of pandemic. Because visiting this antique dealer means having an enjoyable and informative time and the opportunity to learn more about the ceramics and rattan of the late 19th century, her field of expertise. She loves this district; "her quarter" as she calls it, and she likes to stay a few nights a year at the Hotel de Lille. This is her "maison Parisienne" and a place that is an integral part of the life of the neighbourhood. "I stay there for a few nights whenever I prepare exhibitions. We have forged ties; we share a taste for art and the desire to create moments of happiness in the Carré Rive gauche."
Colombe de la Taille
My favourite places:
Maison Galland: One of my essentials for its croissants, its bread and the whole catering aspect.
A delight and it embodies real family values. I go there daily and enjoy it every time.
Boulangerie Maison Galland 52 Rue du Bac 75007 Paris
Restaurant & Atelier Éclipses: Its creator is Cyril Choisne, a great chef and one man band, full of talent and kindness.
He is really one of the personalities of our neighbourhood. Everything is delicious, from the restaurant to the takeaway.
Éclipses 27/29 Rue de Beaune 75007 Paris
Les Antiquaires: One of my favourite restaurants in the neighbourhood… they are from Aveyron, like my husband, so of course I tend to think of Cédric and his wife as virtually adopted family.
A warm and genuine place, offering a delicious experience for lunch, dinner and a drink. I love its refined and varied bistro cuisine, its setting and its terrace.
Les Antiquaires 13 Rue du Bac 75007 Paris
Le Bistrot de Paris: My canteen … I hold my private receptions there because it can be privately hired and that is a must!
French cuisine and excellent service
Le Bistrot de Paris 33 Rue de Lille 75007 Paris