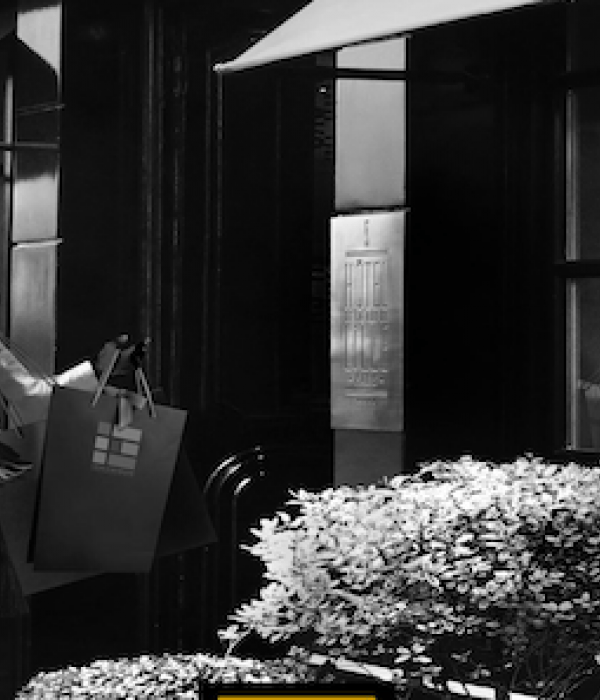 The Hotel de Lille was born under the sign of artists and its rooms are dedicated to the creative personalities who have made their mark on the history of Saint-Germain des Prés. These writers, musicians, poets, and filmmakers are associated with a collection of photos and original objects and archives of a historical district that weaves the thread of creation.
Michel Tréhet, artist and photographer, was invited to take up an artistic residency inside and outside the walls of the hotel. For the Hotel de Lille, he imagined Miss de Lille, a Parisian at heart, jubilant and cheeky, who takes us through her Maison de Lille and the district of Saint-Germain-des-Prés. She travels and intertwines her casual and elegant allure throughout the hotel and its neighbourhood.
She settled down to live at 40 Rue de Lille and is happy to introduce you to the Parisian and Germanopratine art de vivre.
Michel Tréhet has taken up residence in our hotel to narrate a poetic and whimsical story in which he has carte blanche.
Previously, as a student, he wandered through this neighbourhood which he has now made his own, having established his agency on the Rue de Bellechasse.
An encounter with Michel Tréhet
It's a line of force that unfolds in all of Michel Tréhet's photographic work.
Architect and magician of the image, his works speak to us of worlds both intimate and unknown that he creates like a painter between the perception of his eye and the outcome of his gaze.
From Le Havre, where he grew up amidst the pure geometry of the architect Auguste Perret, to the Beaux Arts, where he studied, Michel Tréhet traced the trajectory of what would become his universe of creation: the search for the subtle balance between graphics and poetry, the real and the imaginary. True to his creative vision, he travelled from Paris to Trouville, from New York to Shanghai, building a universe that opens the heart and the realms of the possible by playing with lights and situations in work that is simultaneously efficient and refined. Under his gaze, hidden secret lives are brought into the open.
Barbie is emancipated, the Théâtre de Deauville poses, parasols parade in procession, vintage cars reveal their tremendous dignity, and the works of street art of the Résidence des Bains live their last moments before eternity. From his native coast where he lives and works, he brings together the great horizons and contrasts, the beaches of silences and the sound rhythms, black and white and colour, of a perpetual movement. For this creator of intimacy, the images soar, moved by an inner life. The subjects seize their freedom and tell their story. The elements breathe; the universe comes alive. The life hidden between the lines is revealed.
"There is a soul to the Hotel de Lille that is like a subtle perfume that takes you on a journey into the heart of the artistic life of Saint Germain des Prés.
From the Gainsbourg room to the Truffaut suite via Hemingway, Françoise Sagan and Marguerite Duras' lover, everything comes to life in a form of intimacy with these artists. I love the refinement and elegance of this inspiring house. I feel at home there." - Michel Tréhet

Miss de Lille comes to life and her personality is revealed through the most beautiful places in our neighbourhood. The encounter between the Hotel de Lille and Michel Tréhet unfolds in a unique work with a mythical, personalized Miss de Lille, cultured, curious and playful, who lounges in the rooms and goes to her appointments in the neighbourhood.
Succumb to the charms of Miss de Lille and Michel Tréhet. They share a secret.
Michel Tréhet
Artist, painter, art director and photographer. Graduated from the Ecole des Beaux Arts with a specialisation in Graphic Arts and Advertising. He works as an art director in advertising alongside his career as a photographer. He signs creations for major brands such as Capgemini, Les Maisons du Voyage, Air France, Clarins, Perrier-Jouët and more. A painter and photographer, his work is exhibited in various galleries and institutions in France and internationally from New York to Paris, Shanghai, Berlin, Deauville, Tokyo and Geneva.
Colombe de la Taille
Michel Tréhet's favourite places in the district
The 7L Library
7 Rue de Lille
Creative place with a sharp selection of works of art,
photography, fashion, decoration, … I want it all!
Delpire & Co bookshop
13 Rue de l'Abbaye
Robert Delpire, image genius, created the first Parisian gallery dedicated to photography.
Some names: Cartier-Bresson, Bourdin, Lartigue, Koudelka, Sarah Moon, Klein, …
I want everything, too!
Taschen bookshop
2 Rue de Buci
Unmissable. Painting, fashion, design, art, …
Books to grace your coffee table in style.
Sebastien Besnier
Le Bon Marché Rive Gauche on the 1st floor
An organic and eco-responsible hair salon.
Sheltered from the hustle and bustle of Paris, the "Feel Good" lounge is the ideal place
for a beauty break and relaxation. My hairdresser.
Maillol Museum
59-61 Rue de Grenelle
Don't miss the exhibition 'Elliott Erwitt: A Retrospective', which pays homage
to one of the most important photographers of the 20th century.
He is a chronicler of the intimate, photojournalist, advertising photographer, director and portraitist of Hitchcock, Che Guevara, De Gaulle, Jackie Kennedy, Marilyn Monroe and many more.
Until September 24th, 2023.
The Bon Marche Left Bank
A special place for me, having worked there as a creative for more than 20 years.
Trendy and creative, it delights in surprising us.
Beaupassage
Rue du Bac, Rue de Grenelle and Boulevard Raspail
Yannick Alleno, Anne-Sophie Pic, Pierre Hermé, Thierry Marx, Olivier Bellin, Barthélémy, … they're all there!!! A cutting-edge food court and a masterful creation by Eva Jospin.
The whole district is a joy... Park in Parking Saint Germain and explore it on foot. Galleries, antique shops, restaurants… Everything happens there. Don't miss the chocolates and chocolate mousses of Chocolat Chapon and the Aoyama Flower Market on the Rue du Bac.