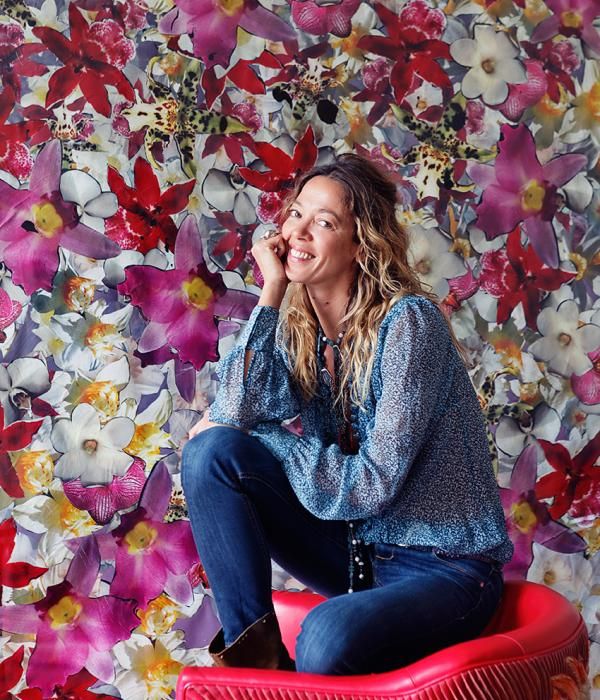 Nathalie Ziegler Pasqua, sculptor of light. Suspended in the firmament, reaching for the stars!
Categories : In the neighborhood, published on : 10/12/20
The eye of the Hôtel de Lille
Our district is a hotbed of talent, some of which is on display at the Hotel, some of which is embodied by our neighbours. It's all a part of our life and part of the cultural life of vibrant Paris and we delight in sharing our favourites with you. A short stroll from the Hôtel de Lille, behind the beautiful facade of a mansion on the Rue des Saint Pères, nestles the studio of Nathalie Ziegler Pasqua. Creator, visual artist, sculptor of light, she is a familiar dancing silhouette and a shining presence in the neighbourhood. From the Galerie Mougin on the Rue de Lille, where her works are displayed, to the Rue des Saint Pères, from Paris to Tokyo, from Formentera to Mexico, Nathalie travels the world, transforming materials and bringing them to exquisite life.
From her hands spring a ray, a spark, a magical world suspended between heaven and earth.
Rising from the alchemy of fire, her creativity reaches for the stars... Defying gravity, hanging in space, celestial splendour, a river of diamonds, fire dragons, gleaming shards and gentle illumination; light, reflections, movement frozen in time, in space, in three dimensions.
The light breaks on the glass in gorgeous hues, bursts into a wealth of precious gems… ruby, emerald, sapphire, topaz, amethyst.
Small or large, sometimes reaching 12 metres high, Nathalie's works subtly yield their charms and secrets.
Before becoming an artist in glass, Nathalie Ziegler Pasqua was a dancer at the Opera de Paris. After a thousand performances and curtain calls, from Paris to Tokyo, Moscow and London under the expert eye of her mentors, Rudolph Nureyev, Jérôme Robins, Mats Ek... she soared at the turn of the century on wings of light to her studio and her creations. Since then her works have been exhibited all over the world and orders for unique pieces have poured in from the Crillon Place Vendôme, the Bains Paris, the new Graff jewellery boutique on the Rue Royale, as well as commissions from London and New York, Singapore and Shanghai. Nathalie likes to rest and enjoy quietly inspiring moments at the Hôtel de Lille. "The Hôtel de Lille creates a poetic nexus in the Rue de Lille and I like to visit and savour magical moments there. I always recommend it to my friends as the most charming address in the neighbourhood." - Nathalie Ziegler Pasqua
Colombe de La Taille