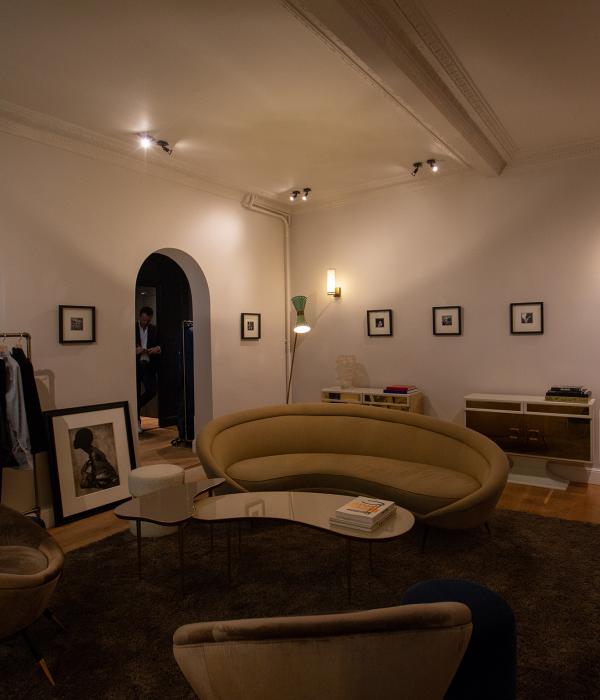 Society Room; the new Parisian fashion house concept
Categories : Shopping, published on : 7/1/19
As Parisian hearts beat to the rhythm of Fashion Week, the Hotel de Lille is delighted to tell you all about its latest favourite place.
Having been established now for some 2 years, Society Room is fast claiming its own special place in the world of fashion and among the places that matter in Paris. The concept and collections are the work of Yvan Benbanaste, the founder and creative director of Society Room, who wanted to create a new choice and a new way of experiencing fashion in a unique setting close to the Madeleine. The Society Room is in large part a tailor's establishment where you can choose from the ready-to-wear and semi-fitted collections for men and women and have them adapted to your requirements, as well as discover exclusive accessories, designer furniture and artistic works. But that is by no means the whole story. The establishment gives the initial impression of being a beautifully appointed Parisian home where everyone is welcomed by appointment in the lounge, the dressing room and, for a sense of intimacy, in the dining room for dinner, lunch, and redesigning the world. Iconic looks stand out with tuxedo jackets, famous fine cotton branded shirts, little black dresses, suits and trousers balanced somewhere between Savile Row and Neapolitan style, all contributing to a vibe that is distinctly Society Room and all available at reasonable prices.
Parisians, industry insiders and friends from all over the world like to meet in this oasis of calm behind the unassuming façade of 14 Rue Pasquier, where chic and charm are one. Yvan Benbanaste and his partner Fabrice Pinchart-Deny create a Society Room spirit that is elegant, international and 'so Parisian'.
"Society Room is more than a brand. We offer an ambiance and a service that you won't find anywhere else," says Fabrice Pinchart-Deny. From the measuring to the choice of fabrics, and from the colour to the cut, Society-Room offers a new approach to shopping.
"We seem to have lost the habit of bespoke tailoring, of asking for precisely what we want. Society Room is a creative house where this is rectified because we offer that greatest of luxuries; time," says Yvan Benbanaste.
The pair have just staged their first fashion show, bringing Parisians flocking to the Loulou restaurant in the Jardin des Tuileries.
To all those looking for the legendary 'Parisian chic', beautiful cuts, beautiful materials, and a chic and relaxed elegance, Society Room is their home. To all those who like to be welcomed, listened to and advised, who prefer to make a moment of purchase a moment of celebration, Society Room is their home. To all those who cultivate humour, a love of detail and service, wit and curiosity. Society Room is their home.
The Hôtel de Lille is another establishment sharing the Society Room spirit and especially the première édition in the image of a Jane Birkin who borrows the clothes of Serge Gainsbourg, an artiste to whom a room has been dedicated at the hotel.
Colombe de La Taille
Society Room
14 rue Pasquier
75008 Paris
society-room.com
Only by appointment
Tel : 01 73 77 87 62